About The Author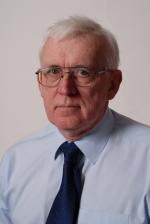 Peter Apps lives in England, and The Long Way Round was his first novel. He now has over a dozen either completed or in the pipeline. Why not visit his web site at https://sjtales.uk for the latest news. He wrote it because he still thinks people are pretty amazing and could react well to any situation. Peter hasn't met anyone who has built a space portal, but then again, he hasn't looked in everyone's garden shed either.
He was born on 1st January 1948 has lived in Sheerness, Kent for most of his life. The Isle of Sheppey where Sheerness is situated has a long, rich history has always fascinated Peter. History might seem a far cry from Science Fiction but imagining life in a Roman settlement is imagining a world just as alien as a distant planet.
Although he worked in a series of routine jobs he likes to do his own thing when he can. For example, all his computers are Microsoft free zones and prefers to use Linux. He has always had an interest in science, especially Astronomy. Now that planets have been discovered around other suns, he feels that the time is coming when we could discover intelligent life out there.
Other interests include classical music and jazz. He also likes to settle down in the evening watching a good film and enjoying a nice glass of bitter, occasionally visiting his local for a chat over a friendly drink.
CONTACT
The author is just a click away by email, peter@sjtales.uk. Your comments will be read with interest.